Performing Electrolysis in San Luis Obispo, CA
SLO Electrolysis offers electrolysis in San Luis Obispo, CA, the only proven
permanent hair removal method
today. Beginning in 1875, continued medical research and development has made electrolysis a safe and reliable treatment recognized by the American Medical Association and Food and Drug Administration. In addition to being a cosmetic procedure, it serves other functions, such as removing ingrown hair to prevent dermatological problems caused by hair follicle disturbances.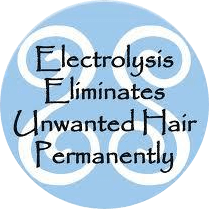 Medical science indicates that three factors cause excessive, unwanted hair:
Normal Systemic Changes:

Normal development brings about hair growth changes during puberty, pregnancy, and menopause. Stress and illness can also be factors.
Heredity:

Hereditary hirsute or excess hair growth is common in all nationalities, some more prevalent than others. Regardless of the quantity of hair that requires treatment, electrolysis can permanently solve this problem.
Glandular Disturbances.

The glands of our endocrine system can become imbalanced, resulting in excessive hair growth. Medications can also be a contributing factor.
Common Treatment Areas for Everyone:
Abdomen

Back

Beard

Bikini Line

Breasts

Cheeks

Chest
Chin

Ears

Eyebrows

Hairline

Hands

Jawline and Side of the Face
Legs

Neck

Shoulders

Toes

Underarms

Upper Lip